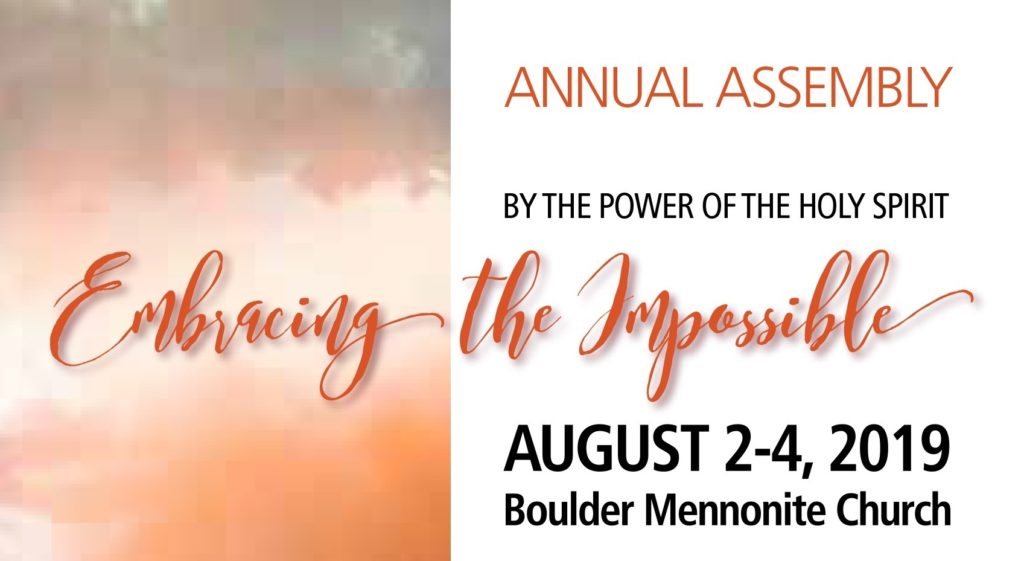 Registration is closed. 
You can still join us. Please stop by the Check-in Table in the foyer in Boulder Mennonite Church. We will be there Friday about 4pm until 7:30 pm and again Saturday morning.
---
Weekend Schedule:
Children's Activities

Hey kids (ages 5-13)! Join us for a fun time on Saturday, August 3rd. While your parents attend the adult sessions, we will be having our own fun time without them! In the morning, we'll have a fun arts and crafts time together. In the afternoon, we'll be taking a field trip around Boulder. The activity will either be GateWay Fun Park (Mini golf, arcade games, etc.) or going to Chautauqua Park for a picnic, games, and a light hike. We hope that you'll join us for a fun day! -Lindsey & Asher Fast-
Lodging Options
Camping at BMC – We hope to set aside an area of the back lawn for tent sites and a few non-electrical camper/RV in the parking lot. Email all requests to Jen.
Home Stays – We have some home stay options available – from one person, to a family! Email all requests to Elvira Glenn of BMC at e_eglenn@netzero.net.
Hotel Stays – To book hotel lodging, please arrange directly with hotel. There are a variety of options within 10 – 15 minutes of the church. Possibilities include:

Super 8 Westminster, 855-310-3270
La Quinta Inn Westminster, 855-310-3270
Quality Inn Louisville, 303-604-0181

Costs
Come if you can. Pay what you can. Pay more if you can.
By encouraging generosity in the past we have been able to include everyone who wants to participate in Assembly to do so. This year, we are asking you to take care of your own accommodations, but we are again encouraging extra gifts to help cover the cost of the Friday evening concert, sound system, childcare and other assembly expenses. We are not asking for a registration fee, but want to make sure everyone is included, so there will be a number of opportunities to contribute throughout Assembly weekend.
You will be able to make your contribution by cash or check and  credit card at the check-in table. You can also contribute online at any point from our website: https://www.mountainstatesmc.org/donate/.

Meals
Meals over the weekend will be on your own with the exception of Saturday lunch. We will have a special Hmong fundraiser lunch, donations paid at the meal.
If you have questions or would like help with registration, please call Jen Dudenhefer at 970-591-2384 or by email administrator@mountainstatesmc.org.
Delegates
Delegates serve for the entire year and may be asked to participate in electronic votes at other times during the year. According to our By-Laws, member congregations shall appoint delegates to annual MSMC assemblies based on the following formula:
All ordained and licensed persons involved in active congregational ministry within member congregations shall be delegates.
In addition, one delegate shall be appointed for every fifty (50) congregational members or portion thereof.
Delegate information will be posted on the MSMC website and distributed to delegates via email, so it is extremely helpful for your delegate(s) to have internet access. Please submit your delegates right away! Submit name, address, phone number and email address to Jen Dudenhefer at administrator@MountainStatesMC.org.
Documents to be reviewed by delegates can be found here.
---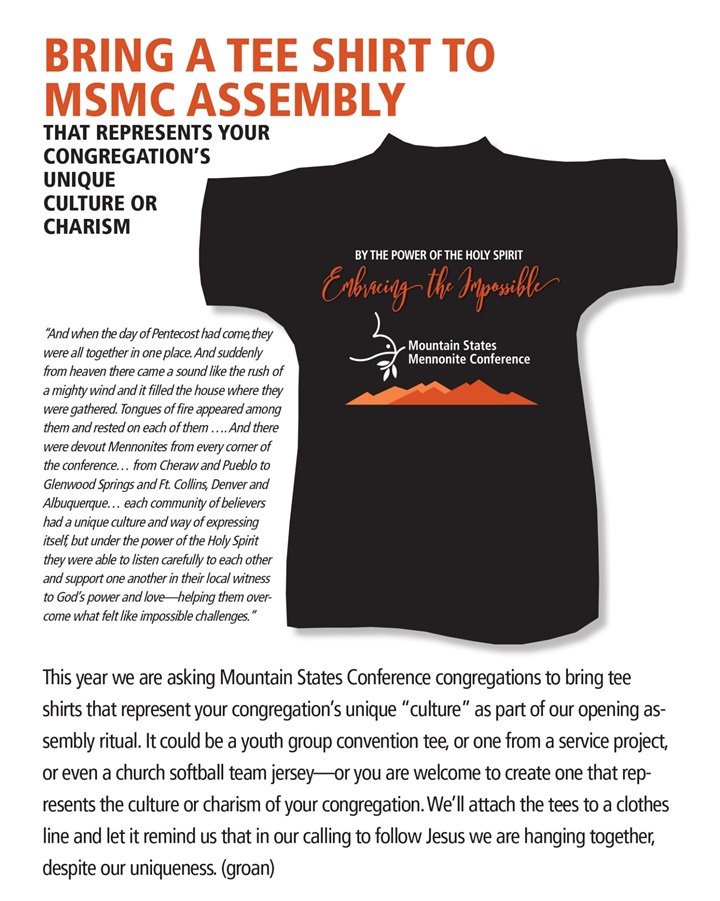 ---
WORSHIP AND ACTIVITIES DESCRIPTIONS
Intercultural Development Inventory Sponsored by Leadership Board, led by Duncan Smith
When: Friday, 9:00 am – 12:00 pm, Classroom TBD
Each day we are faced with intercultural interactions. Some may be more obvious and relate to ethnicity, race, and nationality. There are also many small "c" interactions with what we might call sub-cultures, such as Amish. Do we recognize these interactions with other cultures when we experience them? Are we able to understand and respond to the differences and similarities of these cultural interactions?
The Intercultural Development Inventory (IDI) is an educational tool that helps us understand our world view when it comes to our contacts with other cultures from overlaying a monocultural mindset to working from an intercultural mindset. The IDI helps one understand our own intercultural way of living in the world in the terms of intercultural competency. This workshop will engage the IDI and through interaction with each other help encourage us on the intercultural path.
Childcare available!
"Challenges of Interculturality" led by Fernando Pérez Ventura y Rebeca González Torres
When: Friday, 1:30 pm – 4:30 pm, Classroom TBD
Human mobility is an inevitable action that we observe on a daily basis. The church has two alternatives; Respond to the need and create an intercultural environment or, on the contrary, close its circle and concentrate on itself. This human mobility is a reality that no one will stop and is growing.
Therefore, this workshop is designed for pastors, church leaders and anyone interested in the subject. With this workshop we intend to help to discover through participatory dynamics, the diverse perspectives that allow an approach to the other, and together to discover basic actions to take them as a challenge to our places of origin.
A community meeting where we all have a lot to contribute from our life, culture and perspectives and learn from others! You can't miss it, we'll wait for you.
Childcare available!
Worship
When: Saturday, 8:30 am, BMC Sanctuary
Gather with the MSMC community to welcome God's presence into our proceedings. Pastor Chaiya/Ryan Koch, speakers. Worship details will be available at assembly.
When: 7:30 pm, BMC Sanctuary
Fernando and Rebeca commissioning, guests Oskar Jaime and Carlos Martinez. Congregations will bring their tshirts at this time.
When:  Sunday, 9:30 am, BMC Sanctuary
Service with communion, Wilmer Villacorta speaking. Worship details will be available at assembly.
Delegate Gathering
When: Saturday, 10:00 am, Sanctuary
Mountain States Delegates will meet together to hear updates from the Conference Minister Team, moderator and committees, and process a budget proposal for FY 2020. We'll also assemble as the annual Rocky Mountain Mennonite Camp delegate body.
Service Project
When: Saturday, 10 am – 12 pm, back lawn under tent
Our service project will be to collect hygiene supplies for MCC. Our goal is to assemble 2,000 kits on Saturday morning! Here are the supplies needed for each kit (new items only):
1 adult-size toothbrush (in manufacturer's packaging)
1 large bar of bath soap (leave in wrapper)
1 nail clipper (good quality)
1 wide-toothed comb (6-8 in.)
1 hand towel (medium weight, dark or bright colors; approx. 16 in. x 24 in.)
Thank you for limiting your generosity to the items listed. Due to strict regulations some countries have on the expiration date of toothpaste, MCC no longer asks for toothpaste to be donated with the kits. Instead, we will provide toothpaste with the kits when they ship from our warehouse.
Please use our online signup (www.signupgenius.com/go/10C0B4BA8AE2DA6FD0-assembly) to indicate what items you will contribute. Any extra supplies will be donated directly to the MCC resource center in North Newton, KS. We also appreciate any MCC drawstring bags that you can provide (sewing instructions at https://mcc.org/get-involved/kits). If you would like to donate $ towards items we need to purchase to fill out the kits, please donate online at https://mountainstatesmc.org/donate/. Indicate "Assembly Service Project" in the special instructions field. Contact Jeni Hiett Umble (jeni.umble@gmail.com) with any questions.
Breakout Sessions
When: Saturday, 2:45 – 3:30; 3:45 – 4:30pm, Various rooms at BMC
Better Angels: Reaching across the Blue/Red divide, led by Jeff Newcomer Miller
Good News with Interculturality, led by Fernando Pérez Ventura y Rebeca González Torres
Journey Forward, led by Michael Danner
MCC: Experience Reconciliation in the DRC, led by Jacob Martin
MCC and MMN Service Opportunities for youth/young adults, led by Jordan Penner and Karla Minter
Dialogue with our MCUSA Leadership, led by Michael Danner
*This is a tentative list. Watch for additional break-out options and possibilities at assembly.
---
BOOTHS
Booths will be set up for most of the day Saturday. Between scheduled activities, check out what others are doing around our conference and in Mennonite Church USA! Some of the booths you can expect to see:
AMBS
Hesston College
Menno Creation Care Network
Everence
Mennonite Mission Network
MCC
MDS
RAWTools

---
THINGS TO DO IN BOULDER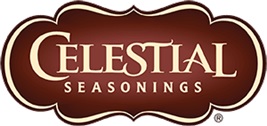 Celestial Seasonings
4600 Sleepytime Drive, Boulder, CO 80301

Free Tours (Mon – Sat) 10:00 am – 4:00 pm; (Sun) 11:00 am – 3:00 pm
Gift Shop, Tasting, Art Gallery (Mon – Sat) 10:00 am – 5:00 pm; (Sun) 11:00 am – 4:00 pm
http://www.celestialseasonings.com/visit-us
During the 30-minute tour, you'll get a behind-the-scenes look how tea is made – from raw ingredients to finished products – plus see unique attractions like our famous Mint Room, Tea Shop and Celestial Café. While children of all ages are welcome at the Tour Center, only children aged 5 and older are allowed to go on the factory portion of the tour.
NCAR Mesa Lab Visitor Center
1850 Table Mesa Drive, Boulder, CO 80305
Weekdays: 8:00 am – 5:00 pm
Weekends: 9:00 am – 4:00 pm
Public Tours (MWF): 12:00 pm
https://scied.ucar.edu/visit
The National Center for Atmospheric Research (NCAR) sits nestled against the foothills to the Rocky Mountains. You can see NCAR from the church and it is a short drive up Table Mesa Drive. The Visitor Center, open to the public seven days a week, offers free state-of-the-art exhibits. Touch a cloud, consider chaos, steer a hurricane, explore climate, and take a look at the Sun, and browse art galleries.
Pearl Street Mall
From BMC, head north on Broadway to Boulder's popular pedestrian mall. Detailed area map.
There's something for everyone. Watch street performers, eat, shop, cool off in the pop-up sprinklers and mini kid's play area. A number of parking garages are located conveniently nearby. For dining, there are even a variety of roof-top options, for taking in the beautiful flatiron mountains of Boulder. For more information on downtown Boulder, go to www.boulderdowntown.com/visit/maps.
Chautauqua Park
Listed on the National Register of Historic Places, this classic retreat with cabins and dining provides convenient access to Boulder's iconic Flatirons trails. In addition, the huge lawn is a great spot for picnics and running around. There is also a playground. Parking at Chautauqua is extremely limited – especially in the summer months and during special events. Please consider the Park to Park as a green alternative  to get from downtown up to Chautauqua and back again. All inbound buses drop off on Baseline between 10th and Lincoln Place (Trolley Stop at Chautauqua Park). More details about Chautauqua and the shuttle, visit www.chautauqua.com.