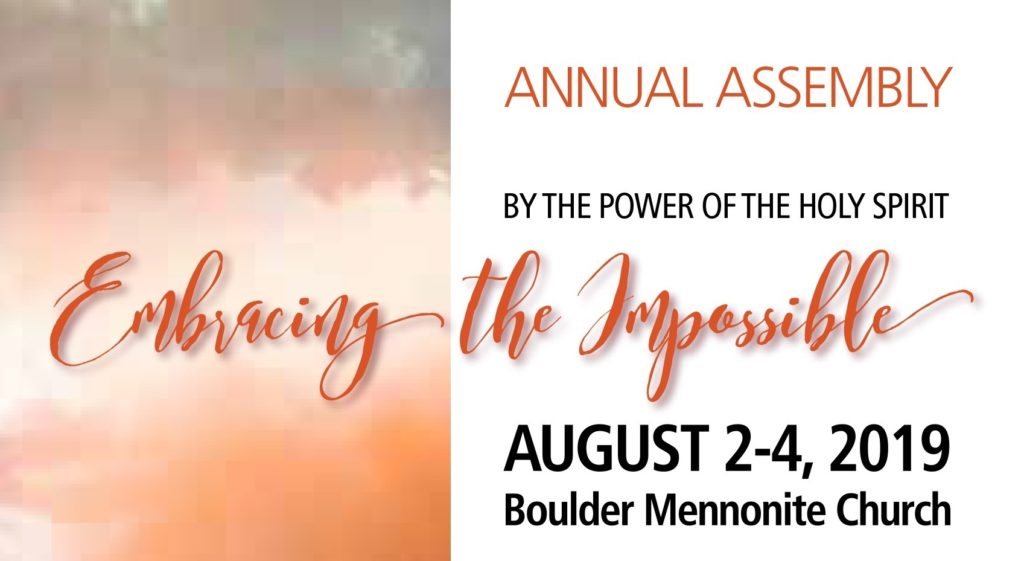 Registration is Open! 
Click to Register
Tentative Schedule:
Friday
9:00 am Intercultural Development Inventory Sponsored by Leadership Board, led by Duncan Smith
1:30 pm "Challenges of Interculturality," led by Fernando Ventura and Rebeca Gonzalez
Dinner on your own
7:30 pm "Better Angels" Concert, Jan Garrett and J.D. Martin (Jerry Derstine)
Saturday
Breakfast on your own
8:30 am Worship –  Pastor Chaiya/Ryan Koch, speakers
10:00 am Delegate session, Unstructured time/Service project
Noon Fundraiser Lunch provided by Hmong Mennonite Church (donation)
1:30 pm Large Group Gathering
2:45 pm Breakout session
3:45 pm Breakout  session
4:30 pm Dinner with friends (around Boulder)
6:30 pm Gathering Music
7:30 pm Worship/program – Fernando and Rebeca commissioning and guests Oskar Jaime and Carlos Martinez
9:00 pm RMMC – Ice cream social
Music Jam
Sunday
Breakfast on your own
9:30 am Worship – Wilmer Villacorta, speaker, Communion, Sending
* There will be nursery care during worship. There will be children's activities during the delegate session and afternoon sessions.
Breakout Sessions – descriptions coming soon
Better Angels: Reaching across the Blue/Red divide
Intercultural church planting
Journey Forward
Dialogue with our national leaders
Understanding Hmong culture
MCC service opportunities for youth/young adults
Immigration: engagement with refugees
MCC: experience Reconciliation in the DRC
Children's Activities – details coming soon

Lodging Options
Camping at BMC – We hope to set aside an area of the back lawn for tent sites and a few non-electrical camper/RV in the parking lot. Email all requests to Jen.
Home Stays – We hope to have a small number of home stay options available. Email all requests to BMC at churchadmin@bouldermennonite.org.
Hotel Stays – To book hotel lodging, please arrange directly with hotel. There are a variety of options within 10 – 15 minutes of the church. A list of possibilities will be added.

Costs
We ask you to "Give if you can. Give what you can. Give more if you can" – it's worked in the past and we expect we can cover our costs in the future.

Meals
Meals over the weekend will be on your own with the exception of Saturday lunch. We will have a special Hmong fundraiser lunch, donations paid at the meal.
If you have questions or would like help with registration, please call Jen Dudenhefer at 970-591-2384 or by email administrator@mountainstatesmc.org.