---
The work of the Ministerial Council is to deepen spiritual relationships across Mountain States Mennonite Conference
---
About the Ministerial Council
The Ministerial Council consists of members within Mountain States Conference. Currently three persons have been affirmed by conference leadership as part of the team. The Ministerial Council is currently seeking one more team member. If you are interested in being considered, please email Conference Minister Amy Zimbelman, AmyZ@MountainStatesMC.org.
The purpose of the Ministerial Council is to work with the Conference Minister in credentialing pastors in the Mountain States Mennonite Conference.  Once churches have chosen a pastor and request licensing, the Ministerial Council meets with them for a sacred conversation, to discern the level of credentialing that the pastor qualifies for based on A Shared Understanding of Ministerial Leadership: Polity Manual for Mennonite Church Canada and Mennonite Church USA.  Catagories include licensing for a specific ministry, licensing toward ordination or a transfer of ordination from another Mennonite Conference.
Jenelle Roynon attends Beth-El Mennonite Church in Colorado Springs, where her husband, Colin, is the youth pastor. With a degree in Youth Ministry and Recreation, she has found a passion in encouraging people in their journey with Jesus. After years of serving in a variety of Mennonite organizations, she is enjoying her role at the elementary school in Divide where their two daughters attend.
Randy Spaulding is an ordained pastor of Boulder Mennonite Church.  He is a board certified chaplain and holds dual credentials in the Unitarian Universalist Association.  He has been a Mennonite minister for 25 years and was the project editor for the songbooks Sing the Story and Sing the Journey.  He is married to Gary Stephens and they live in Boulder.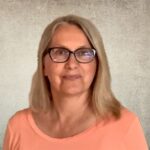 Debbie Miller, Co-Chair
Debbie Miller is a member of Glennon Heights MC and a retired educator. She moved to Colorado 31 years ago when her husband, Mark, was called to be the pastor at Glennon Heights. Debbie has five grown sons and three granddaughters and is delighted to call Arvada, Colorado home.
Zach Martinez is new to the Mennonite tradition, but he has found its commitment to peace and justice inspiring. A Colorado native, Zach's hobbies include hiking, biking, and walking his dogs. He and his wife Megan, and their daughter Margot live in Greeley. He earned a BA in Philosophy from the University of Northern Colorado and a Master of Divinity from North Park Theological Seminary in Chicago. He has been with Sojourn since 2016. Zach enjoys drinking coffee and craft beer, especially with friends.