Come one, come all to our service projects in June!
Following the two largest wildfires in Colorado history, Prayerstream and Mennonite Disaster Service invite you to join us in restoration of the land and community building. There will be something for everyone, including bringing logs to the chipper, hauling slash, erosion control, and hospitality and food service. Pickups and chainsaws are needed.
June 9-13: Poudre Canyon – Cameron Peak Fire cleanup.
June 16-20: Near Grand Lake – East Troublesome Fire cleanup.
Early evening activities in the Poudre Canyon (Grand Lake will have similar events) include:
Thursday:  History tours of the chapel and schoolhouse
Friday:  Live music
Saturday:  Storytelling by evacuees of the fire
Please register by Monday, May 31 at: MDS-Colorado/Prayerstream Wildfire Cleanup
Can't join us? Donations for the wildfire efforts are greatly appreciated as well: https://myemail.constantcontact.com/Could-you-lend-a-hand-.html?soid=1133208989833&aid=Pjcdiqm9CPA
Questions can be directed to:
Carole Suderman (for Poudre Canyon); cjsude@yahoo.com; 303-494-8527
and
Mary Johnson (for Grand Lake); mjmanyik@gmail.com; 303-726-9890
We hope to see you there!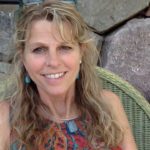 Brenda Fox, Prayerstream Founder and Vision Carrier
A member of Boulder Mennonite Church since 1996, Brenda is still learning the value of community, truth, peace, and justice. Mother of two remarkable young adults, she knows the great joy and satisfaction of a loving family. Brenda graduated from Chicago Theological Seminary, where her heart for public ministry took shape working alongside survivors of torture. For the last 10 years she has served as Chaplain for Hospice of the Estes Valley. Her combined passions and expertise in spiritual care, trauma recovery, grief work, and mindfulness have led to her life's mission to "pray without ceasing." Brenda can be reached by email at prayerstream@mountainstatesmc.org.
Upcoming Prayerstream Meditations
Tuesday AM Prayerstream Meditation: informal contemplative gatherings to deepen our connections to: self, each other, the sacred, and the world in which we live.
Final Meeting: Tuesday, June 1 at 7AM Mountain Time (US and Canada)
Zoom link: https://us02web.zoom.us/j/86881703992
Meeting ID: 868 8170 3992
First Friday Ceremony:  a shared exploration of Spirit and community in ceremony. This gathering is designed to bring ceremony, celebration and prayer together from a variety of perspectives so we can experience new thoughts and ways to be together.
FRIDAY June 4, 5:30pm Mountain Time
Anita Amstutz will guide us into Prayer and Praise of Pollinators.
Prayerstream Meditation: in solidarity with the San Carlos Apache (from Tues, Jan 26)
YouTube link
Prayerstream Testimonials:
"My heart is heavy as I watch the violence, the hate, the lies spreading in our country. What is mine to do in a time like this? As I meditate and pray about this, I know it helps to meet with zoom groups like our Prayerstream Group to pray and reflect together.
I sense there will be more trouble in our land.  In the meantime, my intuition tells me to hope in the light of Christ and to continue to look for that light of love, justice, kindness, truth and hope shining through others.  God, you in whom we live and move and have our being, give me the wisdom, courage, and energy to recognize my own light and to add it to the light of others."  Marilyn Miller
 "I was happy to receive the video from the Epiphany Prayerstream in time to use it for my reflection yesterday.  I am clinging to this group and what it stands for more and more as the days ensue.  I am so grateful that our Conference is offering us this gathering place.  I loved how Anita connected us to our ancestors in the Caves of Switzerland, although, thankfully we are not at such risk praying together.  And, I've been carrying around the definition of Faith with me in these days: it is being sure of what we hope for and certain of what we cannot see.  "Praying" more than I ever have!"  Annaken Toews
---
Prayerstream Mindfulness for Children
As Prayerstream offers spiritual care, we also invite children to opportunities for mindfulness and stories.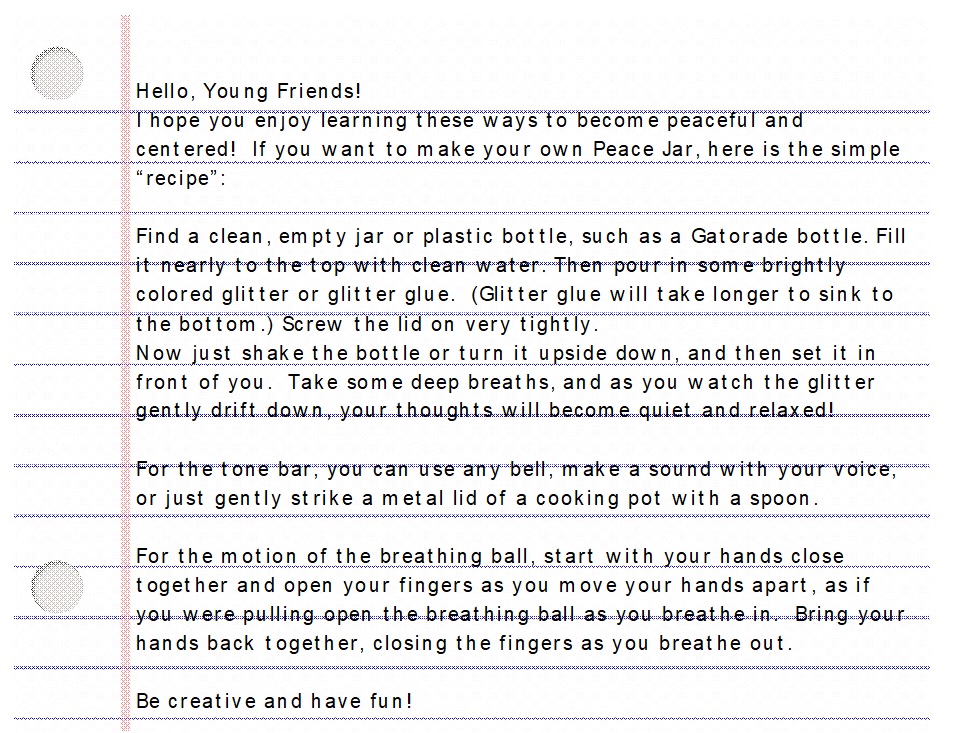 Mindfulness Exercises for Children, by Carole Suderman of Boulder MC: