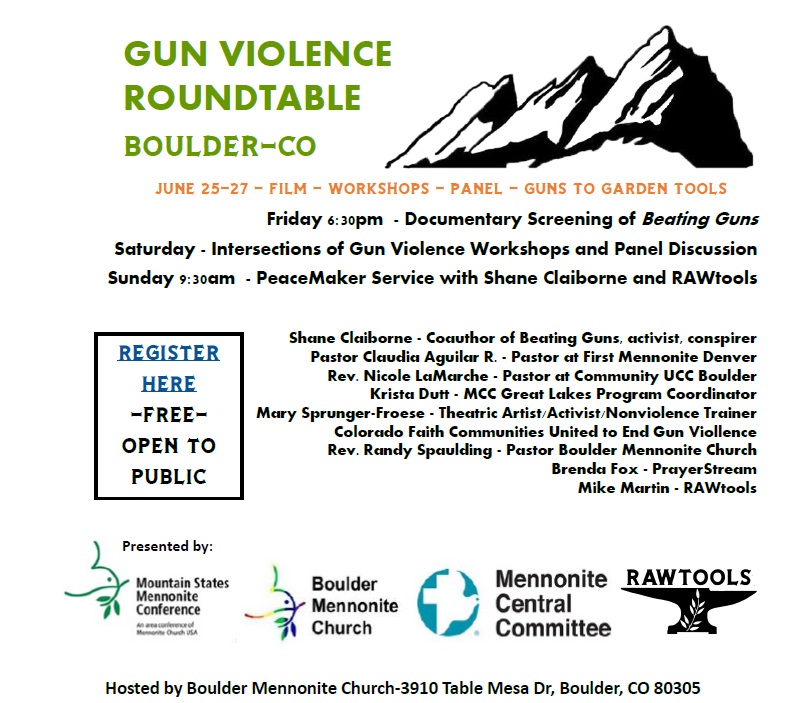 Register Here. Please register so we know how many people to expect; registration is free. You are still welcome to come even if you don't register.
Special Guests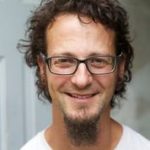 Shane Claiborne is a prominent speaker, activist, and best-selling author.  Shane worked with Mother Teresa in Calcutta, and founded The Simple Way in Philadelphia.  He heads up Red Letter Christians, a movement of folks who are committed to living "as if Jesus meant the things he said." Shane is a champion for grace which has led him to jail advocating for the homeless, and to places like Iraq and Afghanistan to stand against war. Now grace fuels his passion to end the death penalty and help stop gun violence.
Shane's books include Jesus for President, Red Letter Revolution, Common Prayer, Follow Me to Freedom, Jesus, Bombs and Ice Cream, Becoming the Answer to Our Prayers, Executing Grace, his classic The Irresistible Revolution, and his newest book, Beating Guns. He has been featured in a number of films including "Another World Is Possible" and "Ordinary Radicals." His books have been translated into more than a dozen languages. Shane speaks over one hundred times a year, nationally and internationally. His work has appeared in Esquire, SPIN, Christianity Today, TIME, and The Wall Street Journal, and he has been on everything from Fox News and Al Jazeera to CNN and NPR. He's given academic lectures at Harvard, Princeton, Liberty, Duke, and Notre Dame.  Shane speaks regularly at denominational gatherings, festivals, and conferences around the globe.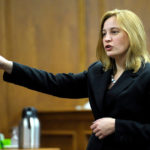 Adrian VanNice is Chief Trial Deputy in the 20th Judicial District, Colorado, better known as the Boulder County District Attorney's Office, where she has worked since 1999. She was raised in Colorado and is a graduate of the University of Colorado School of Law.  Adrian currently supervises the Cold Case and the Juvenile Units and prosecutes major crimes as well as oversees various specialized programs, including the Gun Safety Initiative. She founded the Boulder County Gun Safety Task Force, which is a law enforcement initiative aimed at increasing gun safety and violence prevention in Boulder County. She is a founding Board member of the NDAA Women Prosecutors Section,  is a recipient of the Blue Sky Bridge Champions for Children award, and was a primary author of the NDAA White Paper on Sexual assault. Adrian teaches throughout Colorado, nationally, and internationally on topics related to sexual assault and domestic violence investigation and prosecution, gender based cyber crimes, evidentiary issues for prosecutors, confidentiality/privilege, motions practice and trial skills.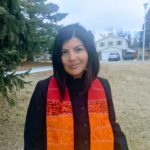 Claudia Aguilar R. is pastor at First Mennonite Church of Denver, Colorado. Being bilingual, bicultural, and binational is part of her call to build bridges among different groups of people. She is a certified yoga instructor and loves music, dogs, cooking, and baking. She is interested in ecumenical and interfaith efforts to bring justice and peace to every being. In her free time, she likes spending time in her garden with her husband Doug and their dog Bruno.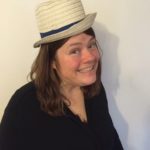 Krista Dutt is the Mennonite Central Committee Chicago Program Coordinator and a pastor at The Dwelling Place, a Brethren in Christ congregation in Chicago. In the past Krista has worked with DOOR as well as work addressing the prison pipeline. Krista worked on the writing team for a forthcoming MCC/RAWtools resource called FEAR NOT, a study guide in response to active violence, as part of the MCC Gun Violence Prevention Network. Krista enjoys spending time with her partner, Jim, her son, Ben, and whoever else shows up in their kitchen to eat!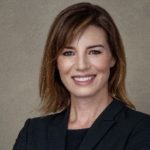 Rev. Nicole Lamarche is the Pastor of Community United Church of Christ, a congregation that includes Boulder County and beyond. She is a spiritual innovator, a community organizer and a public faith leader, serving United Church of Christ churches in Massachusetts before co-founding the Urban Sanctuary, a church of progressive Christians, agnostics, spiritual independents and other people of conscience in San Jose, CA. Nicole has a BA in International Studies from the University of Arizona and a Master of Divinity from the Graduate Theological Union in Berkeley, CA. She is committed to creating beloved community beyond the confines of the walls of sacred spaces and was a part of Occupy Oakland and later the Black Lives Matter movement that is ongoing. Nicole is currently an active leader with Together Colorado and the Colorado Poor People's Campaign and is committed to organizing for climate, economic and housing justice, ending gun violence and more.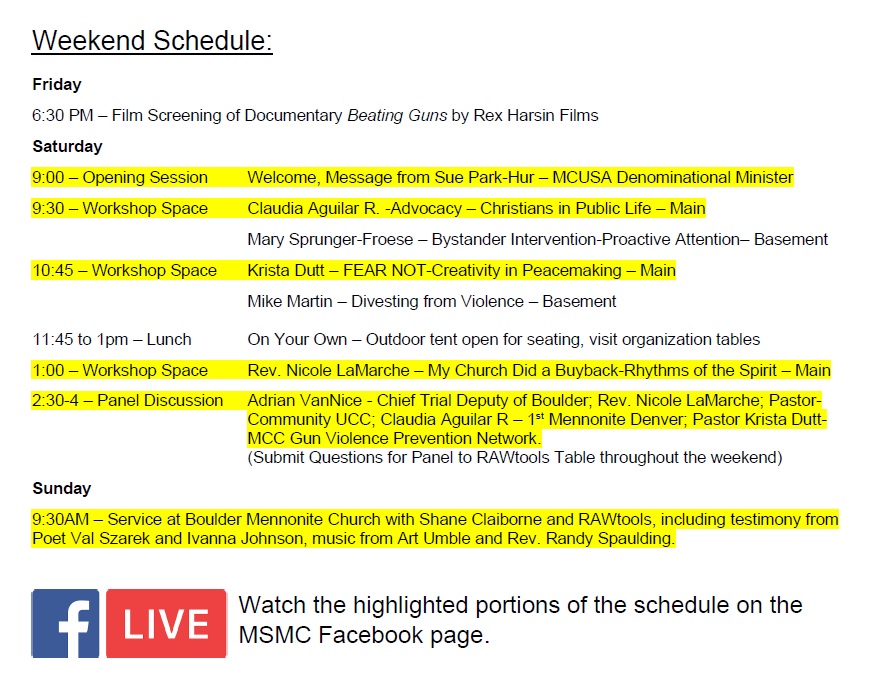 ---
As the Boulder Community grieves the recent mass shooting, we gather this weekend to be informed and equipped to do the work of ending g
un violence. Since the Sandy Hook Elementary shooting, RAWtools has spent over 8 years working with victims, survivors, and communities to offer comprehensive solutions to gun violence. Workshops and a Panel discussion will explore what's been done and how to get involved.  Turning Swords into Plowshares is a lot more than turning a gun into a garden tool. Join us to find out more!