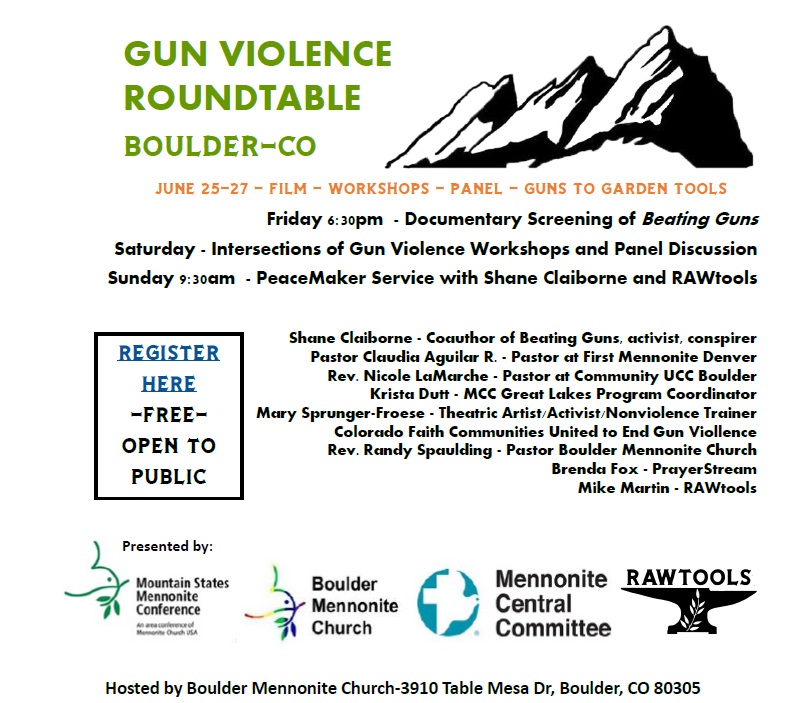 Registration is open!
Register Here. Please register so we know how many people to expect for this weekend event. All registrations need to be received by 6/20/21.  Registration is Free.
Weekend Schedule:
Friday, June 25, 6:30 pm – Screening of Beating Guns at Boulder Mennonite Church (indoor capacity with masks is about 50 at current COVID guidelines)
Saturday, June 26 – Workshops and Panel discussion with local organizations and leaders working to end gun violence

9am – Opening
9:30 to 10:30 Workshop space
10:45 to 11:45 Workshop space
11:45 to 1 Lunch Break (on your own)
1pm to 2pm Workshop space
2:30 to 4pm Main space Panel Discussion
4pm -5pm Open Networking, Exhibit space
5pm Dinner on your own (further networking)

Sunday, June 27, 9:30 am – PeaceMaker Service with Shane Claiborne and RAWtools at Boulder Mennonite
*Saturday and Sunday we expect to have a large tent outside for the panel discussion and Sunday service, with the ability to breakout in smaller groups outside and in the church for workshops.
Special Guests
Coming soon…
As the Boulder Community grieves the recent mass shooting, we gather this weekend to be informed and equipped to do the work of ending gun violence. Since the Sandy Hook Elementary shooting, RAWtools has spent over 8 years working with victims, survivors, and communities to offer comprehensive solutions to gun violence. Workshops and a Panel discussion will explore what's been done and how to get involved.  Turning Swords into Plowshares is a lot more than turning a gun into a garden tool. Join us to find out more!