Our Conference Minister's Response to the Tragic Shooting near Boulder Mennonite: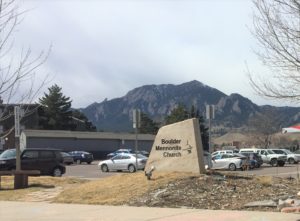 When I heard the breaking news, I asked Pastor Randy what I/Mountain States Mennonite Conference could do to support those in Boulder. "We really don't know anything at this time . . . Just pray that all involved are okay and those that are hurt may heal," he said.
Thank God, I learned—no one from Boulder Mennonite Church was there. But by the end of the day, we learned that 10 people were killed. 10 beloved children of God. 
God, have mercy. Christ, have mercy.
And so this morning, I joined the Prayerstream vigil in Boulder to pray. It was held at Boulder Mennonite, a house of peace located just down the street from the grocery store that experienced such horrifying violence yesterday. About 30 folks were in person and about 30 of us joined virtually from around the world to pray. 
We prayed for the victims' families whose loved ones didn't wake up today. We grieved a country obsessed with guns. We quoted song lyrics to each other and someone from Sweden sang about light. We felt in our collective soul a longing for God's peace, that this is not how it should be. Someone who used to shop at that store, and someone who works at the church pondered: That could have been me. Someone else said: I'm shocked and I'm not shocked.
Our prayers will be continued by those in the community, as Boulder Mennonite opens its grounds to make space for prayer outside of the police tape. We send our love and God's peace to the church and to all in the city of Boulder.
It is hard to find words to speak in the face of unspeakable violence, and so today, from a place of lament and without any answers, this is the prayer my mind keeps returning to:
God, have mercy.
Christ, have mercy.
God, have mercy.
Christ, have mercy.
Amen.
Rev. Amy S. Zimbelman; Conference Minister, Mountain States Mennonite Conference