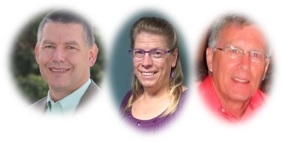 By Merv Birky, Regional Conference Minister
Conference Ministry Team

As the Conference Minister Team (Barry Bartel, Charlene Epp, Merv Birky) concludes three years in this role, it so happens that it is my turn to write our article for this issue of the ZING!
But first, a brief personal reflection. I am deeply grateful to have had the opportunity to serve as Regional Conference Minister for the southern region of the Conference. I have found this role to be invigorating, meaningful, and rewarding. It has been a privilege and joy to relate to the pastors of these churches and to engage the congregations along our journey together. I've appreciated the ongoing connection with so many across the entire Conference. I'm also very thankful that this task was shared by three of us, and I thank Charlene and Barry for their patience, encouragement, and insight as we worked together.
Charlene, Barry, and I are concluding these years with high hope and anticipation for much goodness yet to come throughout Mountain States Mennonite Conference. In one sense, there is a "passing of the baton" taking place. A new generation of younger pastors and leaders is rising up to carry on the mission of our churches and the Conference. This brings good and challenging changes and a surge of fresh energy and insight.
Mountain States MC consists of 17 member churches and one "affiliated" church. A few pertinent details:
4 new within the past 10 years: 9 have existed for over 50 years; 5 between 12-49 years
2 currently in pastoral search; 3 with multiple pastoral staff; 1 fellowship functions without a pastor
6 with average attendance > 50; 12 with average attendance < 50 (before Covid-19; some with more now)
MSMC relates to several "Passion Ministries" (i.e., RAWtools, TiLT, Casa de Paz, Colorado Village Collaborative, PrayerStream), as well as Rocky Mountain Mennonite Camp, Frontier Village Foundation, and Rocky Mountain MCC Relief Sale. All provide meaningful service and resources for our region.
Other groups affiliated with MSMC provide specific assistance to the Conference: SEED, to Seek, Explore, Encourage, Develop divergent ways to extend, expand and deepen our relationships and ministries within our various communities; the Dialogue Resource Team provides resources and encouragement to congregations challenged by difficult internal conflict or change, or are desiring education on conflict resolution; and the recently named A.C.E. task force (Radical Anabaptists Committed to Equity), whose objectives are to use their platform to support Mennonite communities as they pursue radical love, nonviolence and creating justice in their churches and communities.
MSMC holds Licensing and Ordination credentials for 56 Active or Retired persons, some of whom serve as chaplains and in other ministry roles.
And most significant but immeasurable are the many ministries in our churches, all serving with passion, diligence, and faithfulness.
We as your Conference Minister Team have been blessed to have served these past three years and to represent this Conference in the broader church. Mountain States is a wonderful Conference, not because we are all so perfect, but because we seek together to "pursue God's dreams, by the power of the Spirit, in the way of Jesus Christ." We are confident this Conference will continue to experience the goodness of God in the years to come as you welcome fresh leadership, as you continue healthy relationships, and as you partner with the Spirit of Christ to pursue God's dreams in service to your communities and the world.
As you have made space in your hearts for the three of us, so we encourage you to make a place in your hearts for whoever will become the new Conference Minister. Your capacity to do so will significantly impact the well-being of Mountain States Mennonite Conference in the years to come.
Such changes often give rise to a mix of anticipation and anxiety. We encourage you to welcome both, and to find fresh vision and as the Spirit stirs these in your souls in your journey together as a Conference.
As you entrust each of us to the grace and goodness of God for our futures, so too we entrust you all to God's grace and goodness for the future of the Mountain States Mennonite Conference, "being confident of this, that the One who began a good work in you will carry it on to completion until the day of Christ Jesus." (Philippians 1:6)
Merv Birky, Charlene Epp, Barry Bartel – Conference Minister Team – Mountain States Mennonite Conference