Zach Martinez: An unexpected journey to Mennonite leadership (complete with kicking, screaming, and a hot fudge sundae)

By Rev. Amy S. Zimbelman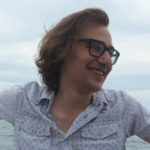 Zach Martinez was not expecting to be a pastor. Or a Mennonite. The MSMC Leadership Board member and pastor of Sojourn Mennonite Church (Greeley and Fort Collins) says of his call: "I was kind of dragged to ministry kicking and screaming."
In his growing up years there had, however, been some promising signs in Zach's life pointing towards Mennonite pastoring. He felt a call to ministry when he was in middle school. And, though raised in a family of military veterans spanning back to the Civil War, he found his pacifist voice early. "By the time I was in high school, I was pretty convinced that US military intervention in Iraq was a bad idea," he says. In fact, he became quite the activist: "I got in trouble for writing anti-war papers in school and going around my house and chanting, '1-2-3-4 We don't want your daddy's war!' to my family."
But when it came time for college at University of Northern Colorado in Greeley, Zach studied philosophy, not theology. By the end of college, he and his girlfriend Megan got married—they had known each other since third grade—and they stayed at UNC for Zach to get a Masters in English Literature.
Unfortunately, UNC's grad program was not a good fit, due to some drama and misconduct present in the department at the time.
Knowing they needed to head a different direction, Zach and Megan found North Park Seminary in Chicago. "We kind of decided to go to seminary instead," Zach says. "But I still thought I'd pursue writing and academia, so my Master of Divinity degree was the academic track. I studied theology and languages more than practical ministry classes." Megan, who is a high school teacher, got a Masters in Nonprofit Administration at the same time.
During seminary, Zach and Megan became increasingly aware of Mennonites. Zach's respected and well-loved theology professor was Mennonite. He studied food and faith for his thesis and found himself in spaces populated by Mennonites, like AMBS' Rooted and Grounded conference. The church Zach and Megan attended had close ties to Chicago Community Mennonite, and the Reba Place intentional community was near where they lived.
So when Zach and Megan graduated and he took a job as a pastor at a nondenominational church, Megan kept encouraging him to keep an eye out for any Mennonite positions.
It just so happened that within a year, a position opened up at Sojourn Mennonite Church in Fort Collins, close to where Zach and Megan were living at the time.
"When I met with the search committee at IHOP, it became obvious that Sojourn was a good fit. That first conversation was 2 and a half hours. They were looking for ways to grow and new ways of being church and so was I."
Their entrepreneurial spirits seemed to match well. The only part that didn't fit was his expectations about food: "Everyone else had dinner at IHOP, but I'd already eaten, so I did something I never really do: I ordered a hot fudge sundae."
Now, four years worth of Sundays into pastoring at Sojourn, Zach and has teamed up with Todd Wynward for a podcast project this summer called The Path to Restoration. "It's gonna be awesome. For me it's been a wonderful time of renewing energy. I hope it helps people live in more healthy ways with their neighbors and the places they find themselves in."
While pastoring seems like a forgone conclusion looking back, Zach's life could have gone a lot of different directions. He has a myriad of interests and talents. "When something's interesting to me, I spend an incredible amount of time learning about it. I like to know everything about everything," he says. He serves on the board of a nonprofit that supports immigrant children. He's taken up competitive running. He's had side hustles in pizza restaurants for about 10 years. He's gotten into gardening, racial justice activism, brewing his own beer. And if that's not enough, he and Megan are parents to their 4-year-old child, Margot. (And they also enjoy the company of their two dogs, Sargent Pepper and Penny Lane.)
But while serving others via pastoring at Sojourn is his path of choice, Zach has in no way been static. He helped plant a new congregation in Greeley so that Sojourn is one church with two campuses. And he says that his philosophy about pastoring has evolved:
"When I was in seminary, I thought the job of pastoring was about building strict doctrinal restraints and staying theologically consistent with the historic church. But when I did chaplaincy training, I started realizing that the work of a pastor isn't to get theology right. It's much less about correcting people and more about working with their experience of the world to lead meaningful lives. Now I'm not terribly interested in who gets it right."
His leadership on the Mountain States Leadership Board, much like his ministry in his local congregation, is forward-thinking and entrepreneurial, always with an eye toward bringing meaning to others' lives.
When asked about his hopes for Mountain States Mennonite Conference, he shares a refrain that he also keeps coming back to at Sojourn:
"Abandon the language of limitations in favor of the language of opportunity," Zach says. "Our conference is small and geographically dispersed; we don't have a big budget. Many of us are not historic Mennonites. All this means that we have an opportunity to do things differently. We can be innovative. We don't cling too tightly to things in the past—we're willing to try new things. We have a lot of opportunities.
"I like to think of my personality type as a disrupter. the church needs a little disrupting in it to make it more sustainable in the 21st Century. I think that Sojourn and Mountain States Mennonite Conference are the exact places to do it."