By Barry Bartel, Conference Minister Team Coordinator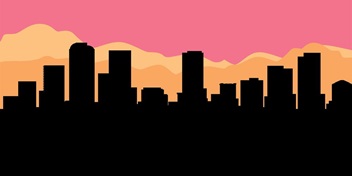 SENT provides resources for the church and helps inspire and define local ministry. "This is likely the most diverse gathering in Mennonite Church USA," remarked one national church leader. "Yes, this is what I dream the church will become," several others affirmed. SENT brought 70 church planters and other leaders together in Colorado April 26-28. Mennonite Mission Network (MMN), Everence, and Mountain States Mennonite Conference sponsored this fourth annual conference. Beloved Community Mennonite Church hosted the conference at their worship space in Englewood.
Mauricio Chenlo of MMN envisioned this type of conference and led the planning, joined by Vern Rempel and MMN staff.  MMN unveiled a Sent Network church planting curriculum, as well as a new resource on creating an Anabaptist church-planting culture, both of which are available in the church planting tab on MMN's web page, www.mennonitemission.net/resources. Vern Rempel led worship planning, joined by Fernando Perez (bass guitar) and Taylor Berry (harmonica) to feature the distinctive blues-style worship music, inviting others to join impromptu with guitars and rhythm instruments.
Biblical reflection by Linda Oyer on different expressions of the Good News in Luke and John helped focus the theme on church planting in our context.  As in previous Sent gatherings, Mountain States leaders again featured prominently at this gathering in our back yard:
Vern Rempel provided the opening message Friday on the theme "Beautiful Feet"
Fernando Perez and Rebeca Gonzales Torres provided plenary presentations on Incarnating the Good News, with stories from Mexico
Matthew Shedden introduced presenters and led a group discussion on Good News at Defiance
Rebeca Gonzales Torres and Fernando Perez led a seminar on Good News in becoming intercultural at Beloved Community
Ken Gingerich led a workshop on Good News in marketing and communication
Zach Martinez led a workshop on Good News at Sojourn
Sarah Jackson hosted a group at Casa de Paz
Steve Friesen (who also coordinated logistics for the weekend) and Monta Lee Dakin shared about being part of the Columbine community on this twentieth anniversary of the high school shootings.
Fernando Perez offered a reflection in the closing worship service Sunday
Rebeca Gonzales Torres and Fernando Perez inspired many with their input on becoming an intercultural community.  Informal discussions throughout the weekend helped further clarify their role at Beloved Community and in our conference for the coming year.  After the conference, the Ministry Support Team (MST) met to support Fernando and Rebeca in their ministry.  In addition to Fernando and Rebeca, the MST consists of Barry Bartel, Ken Gingerich, Annaken Mendoza-Toews, Deb Schaffer, Kaylanne Chandler, and Mauricio Chenlo.  Anyone wishing to learn from or support their ministry is welcome to contact any member of the MST!
Pictures from SENT
ZING! May 2019