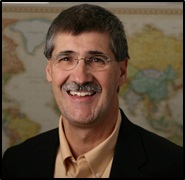 The 36th Niwano Peace Prize will be awarded to Dr. John Paul Lederach, Professor Emeritus of International Peacebuilding at the Kroc Institute for Peace Studies at the University of Notre Dame and a Distinguished Scholar at Eastern Mennonite University in the United States where he served as the founding director of their Center for Justice and Peacebuilding. Currently he serves as a Senior Fellow at Humanity United, a philanthropic foundation. Dr. Lederach has worked in mediating conflicts, building peace, and fostering international reconciliation for more than thirty years. He has developed training in conflict transformation and provided direct conciliation support services in some of the most violently conflicted regions across five continents.
The presentation ceremony will take place in Tokyo, Japan, on May 8th. In addition to an award certificate, Dr. Lederach will receive a medal and twenty million yen.
Lederach was chosen by the Niwano Peace Prize Committee through an annual process that involves soliciting hundreds of nominations from individuals around the world. In their statement announcing Lederach's award, the selection committee emphasized his role in the development and teaching of peace theory and strategy, as well as his on-the-ground peacebuilding work around the world, including in Colombia, Nepal, Northern Ireland and the Philippines. You can read the full press release.
"I am grateful and humbled to receive the 36th Niwano Peace Prize", wrote Lederach in his acceptance letter. "Your recognition gives me courage that our global beloved family can move beyond hate, division, and exclusion and create the bonds that truly heal".