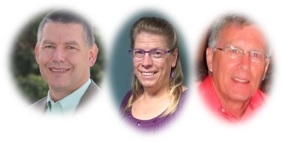 Conference Minister Team
By Charlene Epp, Regional Conference Minister
Pastors, chaplains and other pastoral workers utilize many skills sets and tools as they provide ministry. Not everyone has the same skill sets and in the course of one's work life we are required or urged to strengthen their skill set. As the Conference Minister Team, we have heard the request for "Best Practice" trainings and understandings around topics related to congregations and pastoral workers. This issue of ZING references at least two Best Practice topics for your consideration. (See the Feb 2019 Zing article on Child Protection policies.)
Here I bring your attention to the concept of Transformative Mediation. An entire chapter is dedicated to this form of mediation in the book Mediation in Pastoral Care by Lies Brussee-van der Zee and Annelies Klinefelter-Koopmans. While pastoral workers may avoid placing themselves in the position of a mediator, these authors offer insight into how facilitative and transformative mediation differ and making a solid case for the use of both forms of mediation. Facilitative mediation is solution-oriented; transformative mediation is relationship oriented. These authors highlight what the strengths of transformative mediation can be for pastoral workers given we are imbedded in relationships where utilizing a skill that can transform conflictual relationships is something worth considering.
Our MSMC founding documents emphasize relational accountability and proximity. For those who have chosen or found themselves ministering in MSMC it may be of interest to hone skills in transformative mediation. In our context there is strong encouragement to nurture and retain relationship, regardless of agreement. It's the latter part of the last statement that can be challenging. Putting the intention into relating to another even when we disagree takes a particular kind of effort. Brussee-van der Zee and Klinefelter-Koopmans outline specific tools and offer a case study of how those tools can be used in a transformative manner.
As we continue our shared journey to "pursue God's dreams by the power of the Holy Spirit in the way of Jesus Christ", let's develop skills that promote healthy, transformed relationships. Conflict is inevitable. Transformation is possible "by the power of the Holy Spirit".