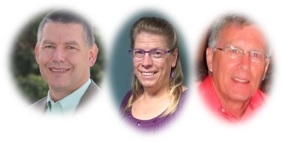 By Charlene Epp, Regional Conference Minister
Conference Ministry Team

This article title is a question all white people are faced with as protests and statements about racism are being widely engaged – at the moment. Racism is a bedrock of the formation of this country. Four hundred years later we white people still don't see how deeply ingrained it is in our way of being. Addressing this reality requires attention and commitment that last longer than the latest news story, for six months, until the protests stop or for the "term" of whomever is identified as the instigator of bringing the concern to the forefront once again.
As a conference of primarily European descendent members, we are aware of this is as a current issue to varying degrees. Ranges of awareness of the depth and intersectionality of what facing our racism means are present among us. Yes, I called us whites racist. Layers upon layers of ways in which we live into superiority are part and parcel of how we are racists: familiar or preferred "Mennonite" names based on European generational heritage and/or last names, ways of singing or worship, pedigree via litany of educational and/or voluntary or vocational choices, etc. All these, and more, aspects of our being await our unpacking and undoing as we embrace a journey of justice, patience and unmitigated grace towards recognizing the fullness of humanity in all God's children.
Just three weeks apart, two black men, De'Von Bailey (Aug 3, 2019, Colorado Springs) and Elijah McClain, (Aug 24, 2019 Aurora, CO) died as the result of police officers stopping them while being black. The impact of COVID 19 on Blacks, Latino and Navajo Nation people is devastating and disproportionate to the impact on white people. These are a few of the groups of people who are our neighbors and members of our communities within MSMC. Justice has not rolled down like a mighty river for these, our community members and neighbors. Jesus has some specific words to say about who our neighbors are and how we are to treat them.
Our spiritual heritage goes back to "Hebrew" people of the older Testament. These were those from neighboring nations who were unwanted for a variety of reasons: skin color, economic status, ability, etc. It was this same group of people who were renamed the Children of Israel, people chosen by God to form a faith community which were later called Jews. A descendant of that group of people, Jesus of Nazareth, drew around him a collection of men and women from a wide spectrum of backgrounds. It was this group of people he discipled to be the body of Christ upon this earth. Anabaptist ancestors took what this gospel means to depths of communal discernment, non-violence and other theological constructs that call us to attend carefully, faithfully to who we are and how we are with others.
At our 2019 Assembly, I was one of many who failed to recognize and respond to a racially disturbing situation. In my hurried effort to move to a meeting for which I was running late, words fell out of my mouth that added insult to injury and did not grasp the depth of that situation.
Those words fell so easily because I'm white and being white impacts non-whites while protecting myself and my privilege.
In recognition of the need to address racism more deeply, the Conference Minister Team and Leadership Board have engaged a task force to this end. MSMC now has a resource dedicated to our becoming and embracing a movement where black lives matter, and as well as brown lives and all the intersectionality of life. The task force will be introduced in the near future with contact information provided.
This year our Annual Assembly focuses on the third phrase of our MSMC vision statement. Being: in the Way of Jesus. Before us is the opportunity to listen to the experiences of each other, recognizing white privilege and how white supremacy continues to oppress black and brown lives. Let us look deeply at how our way of being can change and more fully reflect the way of Jesus.