Hacia una Interculturalidad
Parte 3, Por Fernando Pérez y Rebeca González
La ejecución del programa de Cultura de Paz y Transformación de Conflictos hacia la interculturalidad
¿Cómo dar los primeros pasos hacia la interculturalidad, sin que sean solo ideas y buenas intenciones? No por decir:" somos abiertos", o "todos son bienvenidos", la gente de diversas culturas y razas van a llegar a nosotros. Recordando tantas veces la actitud de Jesús con el diferente, nos ayuda a entender nuestra posición frente al diferente. En Jesús, la interculturalidad, toma sentido, no la tradición, no la institución religiosa, sino la persona, el ser humano. Tantos textos bíblicos que nos mencionan los evangelios sobre la práctica de Jesús con muchos y muchas personas, seres humanos diferentes. (Jn 3:1-21; Mt. 7:24-30; Jn. 4:1-26; etc.).
Así que, por esta razón decidimos realizar un programa de Cultura de Paz y transformación de conflictos hacia la interculturalidad, en donde invitamos a personas de diversos contextos para poder experimentar caminos de interculturalidad desde diferentes encuentros y con diferentes culturas. Hemos realizado dos programas pilotos: en español y otro en inglés.
El primer piloto fue 100% español, con la participación de 8 personas latinas/os
Segundo piloto fue 80% inglés y 20% español con la participación 9 personas
El programa incluye temáticas que tienen la finalidad de abrir las puertas al dialogo que llevan a la revisión personal y encuentro con el otro, llegando a conocernos mejor y comprender las diferencias. Cada semana asumimos retos que son pequeños cambios que contribuyen a nuestra transformación. Y a seguir teniendo puertas abiertas hacia el otro/a, hacia los demás, dando los primeros pasos hacia la interculturalidad.
Hemos llegado a la conclusión, que los límites están en nuestra mente y que la práctica puede ser más sencilla si estamos dispuestos al encuentro de los demás. Las diferencias culturales se pueden ver como límite para compartir o una oportunidad de aprender, tenemos perspectivas que varían de acuerdo al ángulo desde donde vemos un mismo evento, pero si lo vemos no como obstáculo sino como posibilidad, entonces daremos los primeros pasos. En estas reuniones hemos visto aceptar situaciones propias y de la cultura que se necesitan cambiar y que se necesitan asumir en la práctica. Nos necesitamos todos y todas para hacer estos cambios, éste nuevo paradigma cultural, social y eclesial ya nadie lo puede detener, porque si lo intentamos, de todas formas, nos alcanzará…
Towards an Interculturality
Part 3, by Fernando Pérez and Rebeca González
The implementation of the Culture of Peace and Conflict Transformation program towards interculturality
How do you take the first steps towards interculturality, without it being only ideas and good intentions? It is not enough to say, "We are open," or "everyone is welcome," so people from different cultures and races are going to come to us. Recalling Jesus' attitude toward those who are different so often helps us understand our approach to those who are different. In Jesus, interculturality took form, not based on tradition, not based on religious institution, but as a person, a human being. So many biblical texts about the life of Jesus in the Gospels demonstrate how Jesus related to many people, including many who were different than him. (Jn 3:1-21; Mt. 7:24-30; Jn. 4:1-26; etc.).
So, for this reason we decided to develop a program on the Culture of Peace and transformation of conflicts from the perspective of interculturality, where we invite people from different backgrounds to experience paths of interculturality with different encounters and through experiencing different cultures. We have carried out two pilot programs: One in Spanish and one in English.
The first pilot was 100% Spanish, with the participation of 8 Latinos/as
The second pilot was 80% English and 20% Spanish with 9 people involved
The program includes themes that aim to open the doors to the dialogue that lead to personal reflection and to encountering the other, getting to know ourselves better and understand the differences we encounter. Every week we take on challenges that include small changes that contribute to our transformation. Continuing to maintain openness to the other, to others, is the first step towards interculturality.
We have come to the conclusion that limits are in our minds and that experiences are easier if we open ourselves to encounter others. Cultural differences can be seen as a limit to interacting or as an opportunity to learn; we have perspectives that vary according to the angle from which we see the same event, but if we see that not as an obstacle but as a possibility, we have taken the first steps. In these gatherings we have seen people realize some of their own reality and culture that should change and accept ways to put that into practice. We all need each other to grow in these ways; this new cultural, social and ecclesial paradigm can't be stopped and if we try, with all our being, we will succeed.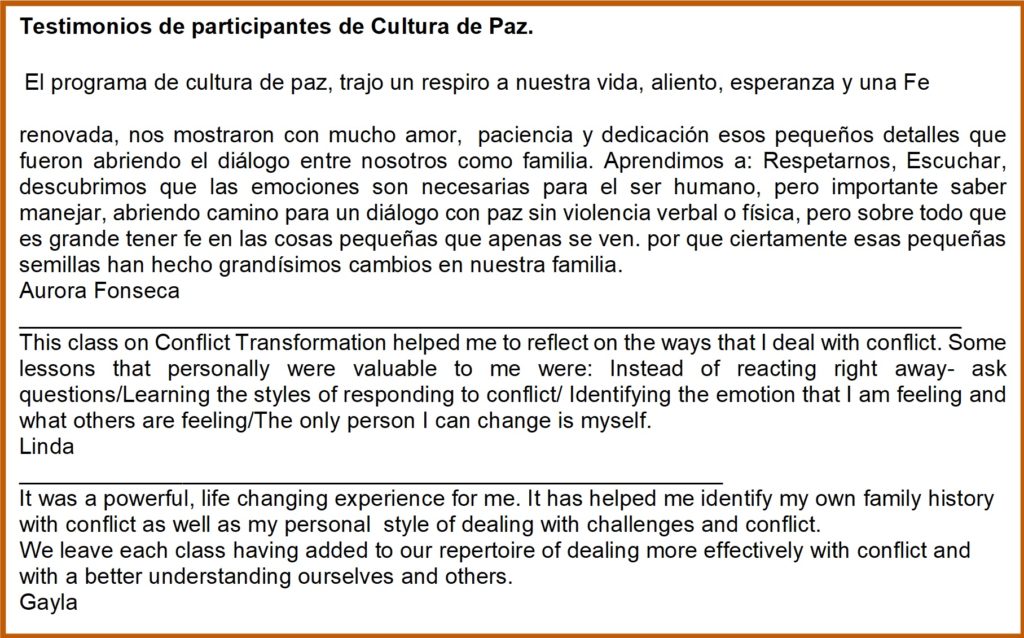 Towards Interculturality, part 1
Towards Interculturality, part 2
Towards Interculturality, part 4a
ZING! June 2019